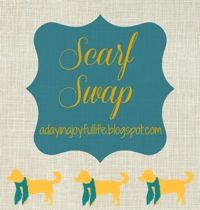 This is Sara and her husband!
I highly suggest checking out her blog (if you haven't already), she is such a sweet girl and her blog is amazing!! She is very open and honest which is hard to find anymore and is just a genuinely nice person. I would love to meet her one day because I know that we would hit it off instantly! Please please check out her blog.

I loved shopping for her and even my husband joined in the fun. She said that she loved blues, purples and corals. I was able to find a beautiful coral color scarf for her that I was pretty certain she would love.
I was so excited to participate in this swap and I was not disappointed. Sara picked out a beautiful scarf for me and I cannot wait to wear it (since being in Las Vegas with 100 degree weather isn't ideal for scarf wearing lol).
Seriously, how awesome is this scarf??! I love it!
Don't mind the horrid mess that I am in this picture haha, this is the result of being up at 5am.
I had an awesome time doing this swap, Sara has turned out to be a pretty great bloggy friend!
Thanks again to Sara for my scarf and thanks to Allie for hosting!