This is my first week participating in the Sunday Social. I figured why the heck not! :)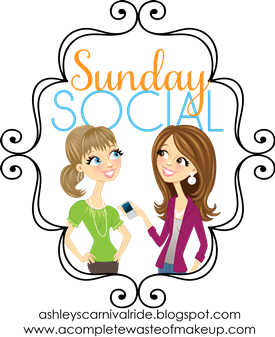 1. What is the name of your blog and how did you come up with it??
The Adventures of Our Army Life. When Kyle and I got married it was a whole new adventure being married to the military and I figured why not name my blog that. (Not very exciting I know haha)
2. What do you love the most about blogging??
I love that I can vent, share hard times and good times but still have the amazing support from all my bloggy ladies!
4. What is something you'd want to tell someone just starting out in blog world?
Don't focus on how many followers or comments you get, focus on why you want to blog. Honestly, who cares of no one reads it just do it for yourself!
5. Biggest blogging learning experience you've had?
See my answer above lol. I had to learn to not care if no one commented or read what I wrote. I had to write for me and no one else. This is my therapy.